Did you know that around 89% of companies are preparing for a digital transformation? Businesses are now increasingly taking the digital step, and customers are turning to the web for shopping.
It is, therefore, imperative to improve your business' search rankings so your target audience can find you among the myriad of other brands.
Remember that if they can't find you, they'll just go ahead with the next best option available to them. But do you really want to lose your customers to your competitors?
So, how can you appear before your customers in their search results and hence beat your competition?
Today, strengthening your local SEO can be a revolutionizing move for businesses, wherein it not only takes a customer-centric approach but also reserves a spot for you on the SERPs.
However, your dreams of increased website visibility and traffic can soon end up in tatters if you're not aligned with the latest trends in local SEO. But worry not.
My guide below is dedicated to the local SEO trends to boost your business in 2023.
So let's get started!
Create a Google Business Profile
By setting up a Google My Business Profile, 49% of companies have reported a surge in their search visibility on Google.
Google My Business helps you with organic rankings not only on the search engine but also on Google Maps.
A Google Business Profile can help businesses feature important details about their company, such as its name, reviews, working hours, address, and all such elements that help consumers make their purchasing decisions.
This is because companies that are listed on GMB are considered to be more reliable and reputable to local customers.
On the other hand, Google itself has laid great emphasis on GMB to answer a user's search intent.
The days of keyword dominance on search engine results are gone. Google now focuses more on what the user is looking for.
Your GMB listing elevates your chances of appearing before the right audiences.
However, the information you've shared about your business must be up-to-date and consistent for Google to locate your business with utmost accuracy.
Optimize for Voice Search
You may be surprised to hear that 75% of people who have the feature of smart speakers use it to find local businesses nearby every week.
This explains why Google has recently launched LaMDA, an application that enables the search engine to understand voice searches better.
As a result, Google can effectively comprehend voice searches to ensure people get exactly what they're looking for. When optimizing for voice search, it's integral to think from the customer's perspective.
Instead of short-form keywords like "Japanese restaurants nearby," people using voice search are more likely to ask, "Where can I eat sushi?"
Not only does the search query become more accurate, but the keywords also transition into long-tail keywords.
Your objective must be to create content or optimize your web pages in a way that they show up in local voice searches.
Another way you can do this is by keeping your answers short. The idea here is to deliver valuable information fast.
Moreover, adding slang or vernacular phrases that are popular in the area you're targeting can be helpful in optimizing for conversational keywords.
Video Content Supremacy
Scott Cook, the director of eBay, once said, "Instead of focusing on the competition, focus on the customer."
In the thirst to leave their competitors behind, businesses often overlook what their customers want more.
In today's world, the answer to that is video content. That's how people want to be entertained, engaged, and educated.
Plus, it's also an excellent strategy to ace local SEO since videos have been found to be 50 times more effective in driving organic search results in comparison to plain text.
In my opinion, it's basically a win-win situation for both customers and businesses. What's even more exciting is that Google is helping companies step up their video content strategy by introducing new features to enhance user experience.
Here are a few of these features to ensure both your audience and Google flock to your content first:
Clip Markup – This allows you to highlight key points of your video, giving users the autonomy to jump to the parts they're interested in. Moreover, instead of naming your sections "point 1," "point 2," and so on, remember to be more descriptive so users know exactly the information each section displays.
Seek Markup – This informs Google about your URL structure. In this way, Google can present critical points of your video automatically.
Gear Up Your EAT Score
E-A-T, as you may already know, stands for Expertise, Authoritativeness, and Trustworthiness. These are some of the many guidelines Google employs to judge your content and its value to users.
In keeping with these guidelines, Google's search crawlers are programmed to hunt for the characteristics mentioned below:
The education and the ability of the author of the content
The extent to which the creator can be trusted
The authoritativeness of the writer on the content and the website it's published on
Google regards your content as "high-quality" if it finds all three attributes in it.
Some ways you can signal your site's EAT include certificates and badges, high-authority backlinks, customer testimonials, social proof, etc.
Strengthen Your Online Reputation
Google is very well aware that 93% of shoppers base their buying decisions on online reviews.
This makes it even more essential for your business to focus on its online reviews, mentions, and recommendations since the more positive these aspects will be, the more it will improve your local SEO rankings.
A consistent flow of reviews over a certain period signals to Google that your business is dedicated to providing an excellent experience for its customers.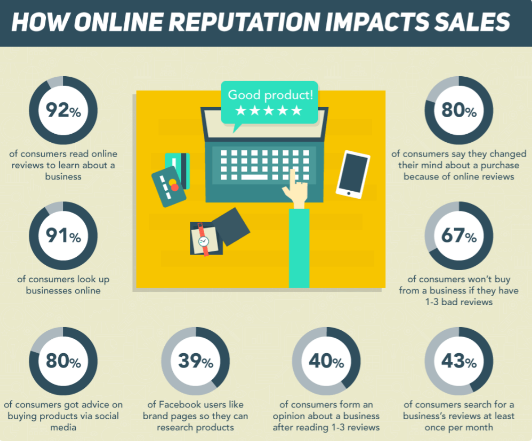 Keep in mind that customer reviews aren't mere ratings but a testament by your customers of their journey with your business.
Considering the importance Google has for Expertise, Authoritativeness, and Trustworthiness, as mentioned above, you can be assured a strong online reputation is your key to winning the game of local SEO.
For this purpose, your focus should be on strategies that can drive quality reviews with consistency.
Once you're walking that path, organic growth and delightful customers will find their way to your business automatically.
Gather Local Backlinks and Citations
Local citations are references to your business's name, phone number, address, or website that ultimately help boost your local SEO by proving the validity of your business to Google.
The greater and more accurate your citations and backlinks are, the more legitimate and relevant your business appears to the search search engines.
Untap the Value of Separate Service Pages
Mentioning your business's services on your GMB listing has proven to escalate your local rankings. While this strategy may hold significant value for your business, you can multiply its benefits by creating a separate web page for every service you're offering.
Each of these service pages becomes a guide to the unique offerings of your business, allowing customers to get a vivid idea of how your business can help solve their problems.
The utmost detail that these pages showcase can upgrade your visibility for those services.
Besides, optimized pages are goldmines for relevant keywords. This automatically impacts search engine rankings and improves website visits for your visitors.
How? The keywords ensure your prospective customers step on the page that perfectly addresses their queries.
No fishing for the right website for hours, no confusion, just the answer they've been hunting for. This makes choosing your business the next logical step.
Local Domination
So far, I've talked about the Local SEO warriors, such as online reviews, GMB pages, and video content.
However, if your end goal is local domination, then on-page SEO, local schema, and technical SEO will take you there.
Both on-page and technical SEO are the building blocks of your online presence. On-page SEO, as the name indicates, involves optimizing all your web pages for higher ranking to gain relevant traffic.
This includes keywords, URL structure, meta tags, and content quality.
Technical SEO, in contrast, caters to the backend elements such as website speed, security, XML sitemaps, mobile-friendliness, etc.
While they may not be visible, their impact on your website's performance and its favorability to search engines is immense.
Lastly, local schema refers to communicating with Google using its language. This can be done by attaching LocalBusiness Schema Markup with your website.
What it does is that it converts your content into machine-readable language, also known as JSON-LD, allowing Google to index your site more easily.
This makes your website a top candidate for rich results, i.e., the additional information section found on the SERPs.
Additionally, it results in higher click-through rates, which in turn brings more organic traffic and ends the chain with increased conversions.
FAQs
Conclusion
In a world where local SEO is destined to evolve, keeping up with these shifts and nuances can be overwhelming.
This is why I've curated this list of the best-performing local SEO tactics of 2023.
Remember that your online presence is your greatest asset. So, keep engaging with your audience, build a user-friendly and navigable website, and pay extra attention to the experience you create for your visitors.
Google awards brownie points to businesses that adopt a customer-first approach and take the necessary steps to bring that vision to life. Keep that in mind, and you're good to go!
For any further assistance with local SEO, get in touch with us today to dominate your local marketplace with utmost ease.
Cyble Rizwan is a Senior Content Writer at SocialSharings. With more than 1.5 years of dedicated experience in copywriting and SEO, Cyble is deeply passionate about the digital world and follows the industry closely to stay on top of trends in digital marketing. Cyble is pursuing a degree in Digital Business and has written for several major brands such as Tenorshare, DOBA, and more.